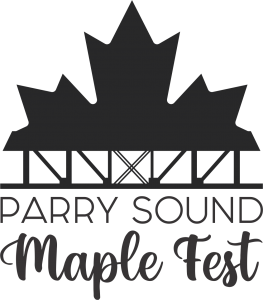 Parry Sound Downtown Business Association is planning their first annual Maple Syrup Festival for Saturday May 4, 2024.  The event will be held in Downtown Parry Sound. The festival is intended to highlight agricultural products produced in the Parry Sound District.  At a minimum this includes maple syrup, honey, wool products, and any other product appropriate.  We will have additional vendors, giving those from the district priority while not at the expense of our downtown businesses.
We will be offering a pancake breakfast, horse drawn hayrides around the different areas of the event, a beer garden, hosted by Trestle Brewery and Legend Distillery, entertainment, live bands, and other typical things you see at these types of events.  In addition, we are running a butter tart contest which is open to all residents of the district with a sizable monetary prize for the winner and bragging rights of course. We have invited all mayors and Reeves from the various municipalities to participate not only in our advertising brochure for the festival full of recipes, stories and interesting facts about our district but also to act as judges for both the Maple Syrup and the Butter Tarts contests.
The festival is largely modeled after the Elmvale Maple Syrup Festival. With more than 55 years' experience!  We hope to raise a significant amount of funds with this event with half of the net proceeds going back to the community and the other half helping PSDBA to grow the event for next year.
Email us at downtown@psdba.ca to become a sponsor and help support our local businesses.