Parry Sound Girlfriends' Weekend
The 2019 Girlfriends' Weekend was a huge success and wow did it ever grow from the 2018 event. In 2018 we had 150 women pre-register, 100 returned to Pardon My  Garden to exchange receipts for ballots with a total spend on Friday night of $10,200. In 2019 we had 324 preregistrations and 30 more on the night of the event. 139 handed in receipts with the amount this year totaling $15,375!!! Those are incredible numbers.
Many positive comments were heard during the event. There were many women who returned and brought friends and many of the first time attendees promised to come back next year. We also heard the Saturday night party at Boston Pizza with Jeff Young went into the wee hours of the morning. A survey will be sent out later for your feedback. Please fill it out and help us make next  year's event event bigger
Downtown Dollar Promotion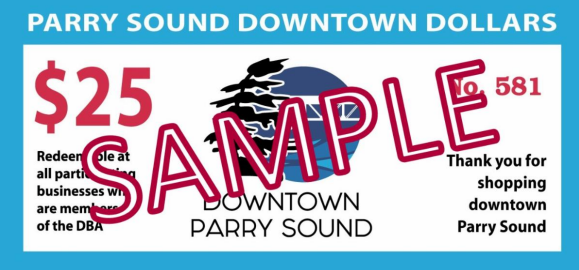 Downtown dollars are now on sale until December 24. They are offered at a 20% discount – $25 will cost $20. This year they will be available for purchase at Parry Sound Bikes and White Squall.
There will be a limit of $150 downtown dollars per person.
Santa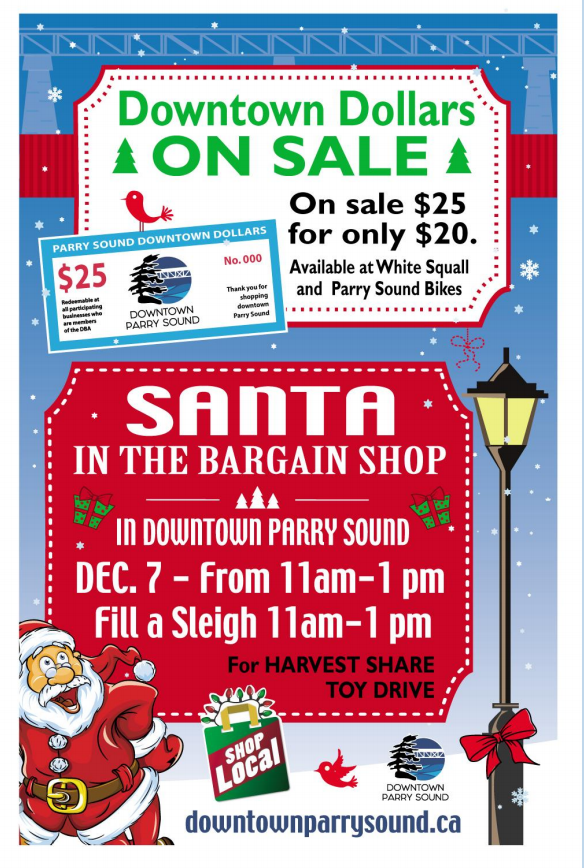 This year Santa will be in the Bargain Shop on December 7th from 11am-1pm. Additional dates are still being worked on and will be posted on our website.
Christmas Decorations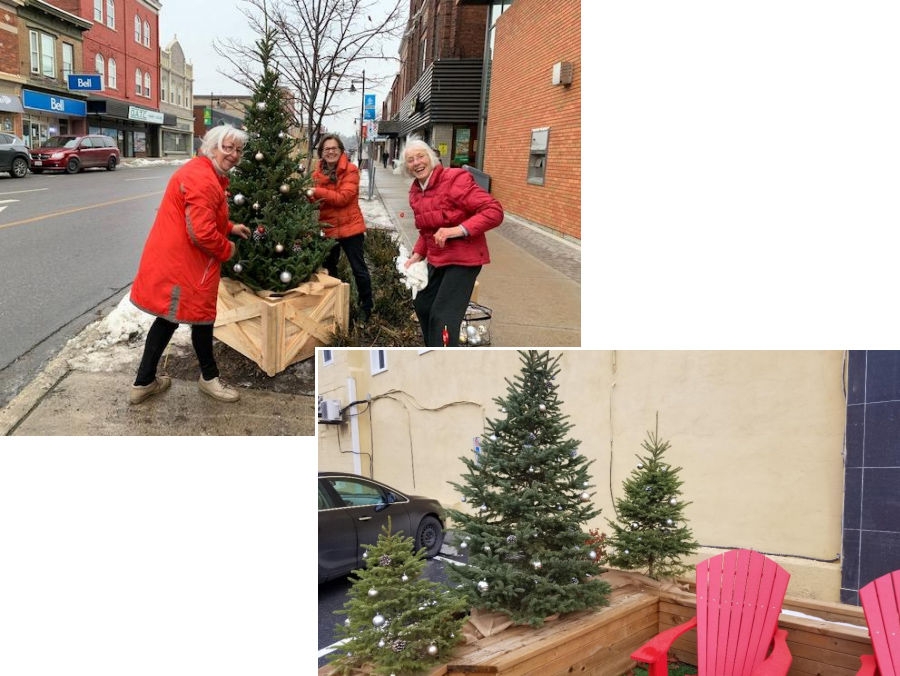 Thank you to our hard working Beautification Committee for installing the beautiful Christmas trees downtown. Unfortunately, to make room for snow removal the trees at the James Street intersection will have to be moved after the Santa Claus parade. We will find another home for them downtown.
The committee has some BIG plans for new lit up Christmas decorations that will be attached to the light poles. Unfortunately, the item was out of stock from our supplier, so they will be ordered  in the spring for Christmas 2020. I promise you it will be worth the wait. Although this year is very simple next year will be amazing.
Website Information
The DBA is in the process of having a new website built. Information is needed for the Business Directory. Please send me the following information as soon as possible.
a brief "blurb" description about your business your logo as a jpg or vector file
2-3 pictures, indoor and/or outdoor shots as a high
resolution jpg file
Please send to downtown@psdba.ca
Vacation
I will be on vacation from December 2-10. I will occasionally be able to check my emails if you have a question. If you have downtown dollars to redeem please contact Karen, the DBA Treasurer, at the Town Trading Post.
December Board Meeting
The December DBA Board of Directors monthly meeting will be held on November 11th, 2019 at 6:30pm at GB Software (42 Gibson Street).
Minutes from October 9th Board Meeting
Categories: Member News, Newsletters